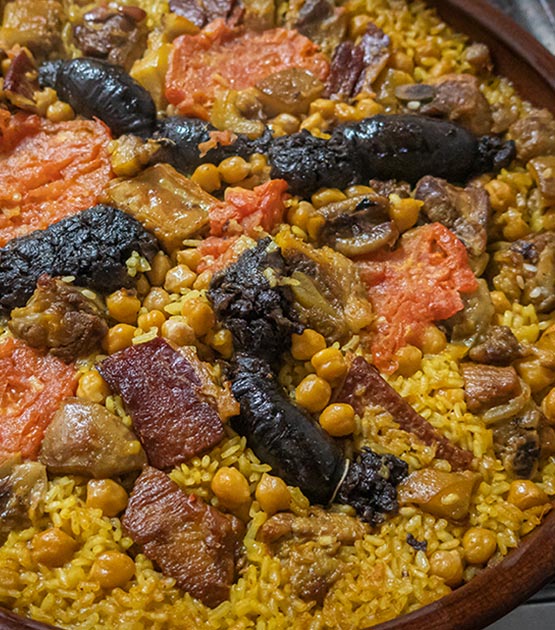 [ Baked rice recipe ]
[ To make this balanced and healthy
recipe, you can use any of
our paella pans ]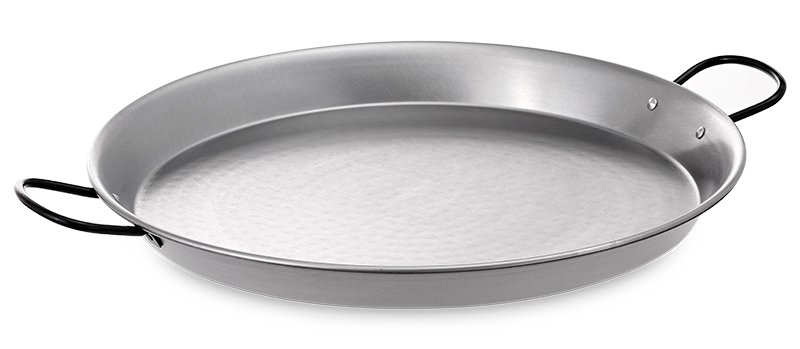 Ingredients for 4 people
300 gr of Bomba rice
600 ml of stew broth
100 gr of potato
100 gr of cooked chickpeas
4 pork ribs
4 small onion sausages
4 slices of fresh bacon
1 potato
1 tomato
1 teaspoon cinnamon
3 tablespoons of tomato puree
1 head of garlic + 2 cloves
Extra virgin olive oil
Salt
Saffron
ELABORATION
Peel the potatoes, cut them into thin slices and fry them in a frying pan with oil. Drain and reserve.
Cut the tomato into slices and put it back in the casserole. Then remove to a plate.
Cut the ribs in half, season them and brown them in the same casserole. Remove to a plate. Cut the bacon into medium-sized pieces and add them to the same pan. Remove along with the ribs. Add the blood sausages and sauté them too, then remove them.
Add saffron to the casserole, tomato sauce, chickpeas, and rice. Season all the ingredients and sauté. Place the whole in a clay or enameled steel casserole and add the rib, the bacon and the blood sausage. Add the potatoes and tomato slices. Place the head of garlic in half, pour in the broth and place the container in the oven at 220ºC for 20 minutes. Take out of the oven being careful not to burn yourself and ... let's eat!
For the preparation of this recipe our reference 41 is ideal.